Transnational Feminist Cultural Studies of Militarism War and Empire: A Retirement Symposium in Honor of Caren Kaplan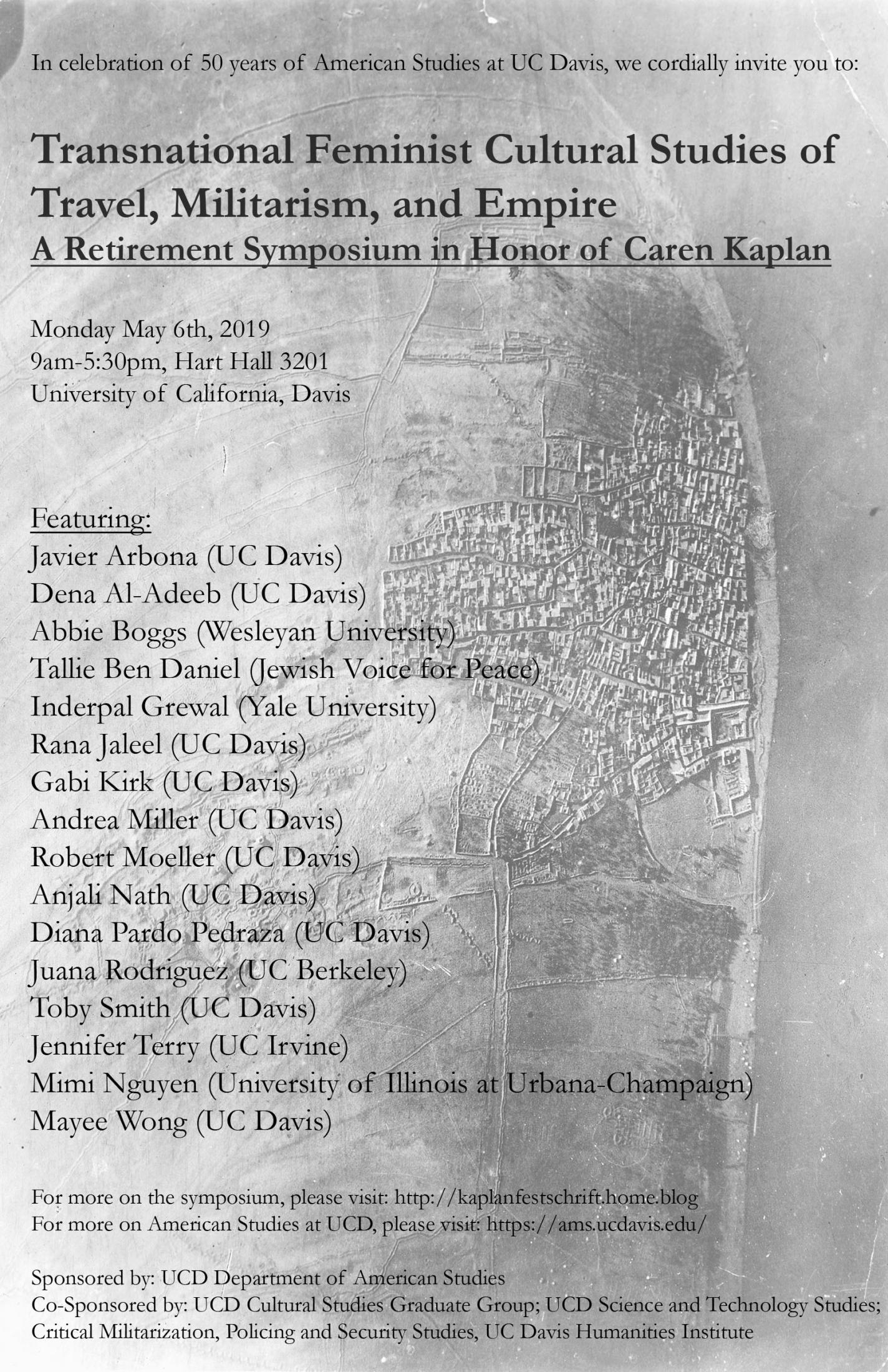 Throughout her extraordinary career, Professor Kaplan has been a leading scholar of Transnational Feminism, Postcolonial Theory, and Militarization Studies. Kaplan is the author and editor of six books and numerous highly influential essays and articles. :
After completing her PhD in the History of Consciousness program at UCSC, Kaplan began her career in the English Department at Georgetown University and continued in the Women's Studies Department at UC Berkeley before moving to UC Davis in 2004. Her work has been translated into Spanish, Italian, Chinese, and Arabic. In addition to American Studies, Kaplan has been affiliated with Women and Gender Studies, Science and Technology Studies, Cinema and Technocultural Studies, the DE's in Feminist Theory & Research, Critical Theory, Performance Studies, and Writing, Rhetoric, and Composition and she served for two terms as Chair of the Cultural Studies Graduate Group. Her most recent book Aerial Aftermaths: Wartime from Above, was published on Duke University Press in 2018.
Please join us to celebrate Caren Kaplan's rich contributions to humanistic inquiry. 
Participants Include: 
Javier Arbona (UC Davis); Dena Al-Adeeb (UC Davis); Abbie Boggs (Wesleyan University); Tallie Ben Daniel (Jewish Voice for Peace); Inderpal Grewal (Yale University); Rana Jaleel (UC Davis); Gabi Kirk (UC Davis); Andrea Miller (UC Davis); Robert Moeller (UC Davis); Anjali Nath (UC Davis); Diana Pardo Pedraza (UC Davis); Juana Rodriguez (UC Berkeley); Toby Smith (UC Davis); Jennifer Terry (UC Irvine); Mimi Nguyen (University of Illinois at Urbana-Champaign); Mayee Wong (UC Davis) 
Date/Time: Monday, May 6th 9:00am-5:30pm
Location: Hart Hall 3201 (third floor), UC Davis
The event is open, but please RSVP to help us make sure we have enough food and adequate space. 
See the official event website for more information about the symposium.
Sponsored by: UCD Department of American Studies
Co-Sponsored by: UCD Cultural Studies Graduate Group; UCD Science and Technology Studies; Critical Militarization, Policing and Security Studies; UC Davis Humanities Institute